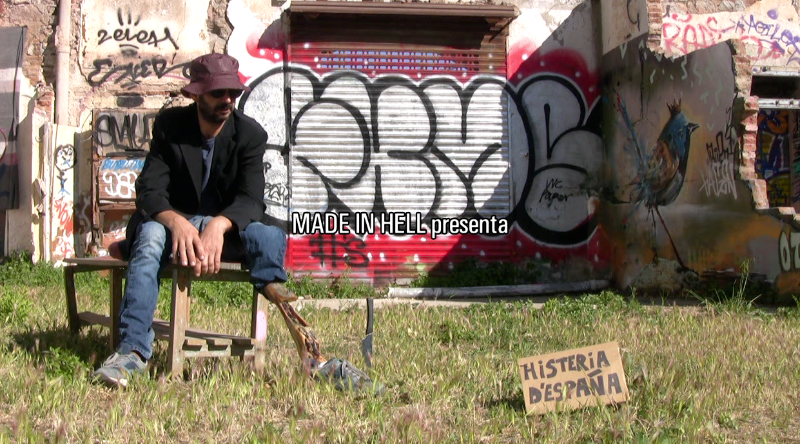 Histeria de España
Kikol Grau
Spain, 2018 - 77'
The history of Spain as you've never seen before, a real trip.
---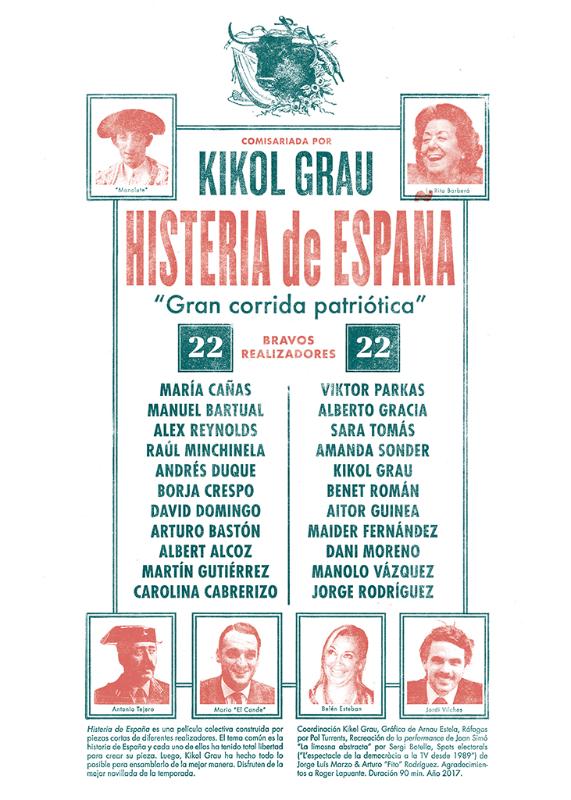 Plot
If there is one gender that we dominate in that country, that is the hunt. In Histeria de España, Kikol Grau invokes a flaming team of audiovisual guerillas to sustain a frenzied and incisive mirror deformant: from Manuel Bartual to Andrés Duque, passing Rubén Minchinela, Borja Crespo, David Domingo, María Ca.as, Alberto Gracia, among others. Radiography of recent history and Black Mirror ca.í; exquisite corpse that concentrates the blood, sweat, and coop of bullkin, for which they parade from Fary to Rita Barber., where there is talk of hot topics such as independence, and where there is football, trout and safaris, among a thousand other things.
#History #parody #foundfootage

Full Cast and Crew
Director: Kikol Grau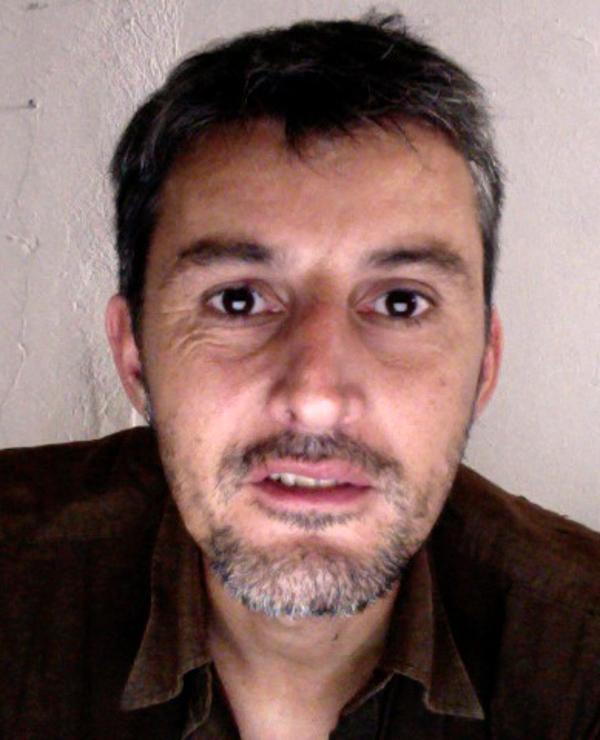 Kikol Grau
Born in Barcelona on July 29, 1971. Graduated in History from the University of Barcelona (UB), he began his professional career in Barcelona Television (BTV). In 1997 he received the "Miramar" award for the best local television program of his own production in Catalonia, for his program "Por la kara TV" (Clot TV), produced with Jorge Rodriguez, Pol Turrents and J.A. Bayona. In 2002 he received a special mention in the "Festival Zemos98" for the most acid television for his program "Gabinete de crisis", where he worked as a scriptwriter and director together with Félix Pérez-Hita, Arturo Bastón and Andrés Hispano. With this series of programs he won the "1st Animalario Festival" in Seville (2007).

He worked completely independently for the TVE2 program "Metrópolis", making six programs about current musical events in different Spanish regions, Madrid, Barcelona, Euskadi, Galicia, Balearic Islands and Andalusia, and two cultural programs about the world of cinema and video art, "El otro cine" and "Agentes independientes".

His first film, Objetivo Gadafi explains the Arab Spring in Libya through news images, premiered at the Maldà cinema in Barcelona; followed by the trilogy on the Basque punk of the 80s that includes, Las más macabras de las vidas, Inadaptados and No somos nada, films that have had a great tour in national and international festivals. Las más macabras de las vidas was presented at the Distrital Film Festival in Mexico City in 2014 and won first prize at the Dock of the Bay Festival in Donosti in 2015, it has been screened in more than 100 international festivals, Inadaptados and No somos nada were also presented at the SEFF (Seville International Film Festival); This trilogy is followed by Magnicidios españoles y Poe, a film constructed from five short films that explain the assassinations of General Prim, Cánovas, Dato, Canalejas and Carrero Blanco mixed with short stories by E. A. Poe. A. Poe; Montezuma-Grau. Descendencia mortal, is his first film of fantastic genre, premiered in 2017 at the 50th edition of the International Festival of Gijón; From his final work of Degree in History at the UB he has made Un recorrido audiovisual por la transición, selected for competition at the SEFF 2017, in the Resistencias section; where a collective film entitled Histeria de España was also presented as a special screening, with María Cañas, Carolina Cabrero, Manuel Bartual, Alex Reynolds, Martín Gutiérrez, Raúl Minchelena, Andrés Duque, Borja Crespo, David Domingo, Arturo Bastón, Albert Alcoz, Viktor Parkas, Alberto Gracea, Maider Fernández, Jorge Rodríguez, Sara Tomás, Amanda Sonder, Aitor Guinea, Dani Moreno and Manolo Vázquez.

During 2018, an anthological exhibition on his work was shown at the Virreina Centre de la Imatge in Barcelona entitled Dame Pank and Dime Tonto. As part of the exhibition, the film Los demenciales chicos acelerados. Barcelona and surroundings. Which deals with the punk scene of his hometown between the 80s and 90s.

The Filmin platform produced the second part of his particular vision of the recent history of this country entitled Histeria de Catalunya collective film with Carolina Cabrerizo, María Cañas, Borja Crespo, Alberto Gracia, David Domingo, Carlos Escolano, Aitor Guinea, Martín Gutiérrez, Roger Lapuente, Sara Tomás, Maider Fernández, Manolo Acedo, Carlo Padial, Sergi Botella, Pol Turrents and Toni Querol. The film was presented at the Atlántida Festival in Palma de Mallorca 2018.

The penultimate part of his story about punk and the Spanish transition Los demenciales chicos acelerados. Euskadi y tal was presented in competition at the Dock of the Bay Festival in January 2020.

During 2020 finished the last film of the Spanish punk and transition series Los demenciales chicos acelerados. Las cuatro esquinas y Madrid presented in international competition at the SEFF of Seville in the International Resistances section.