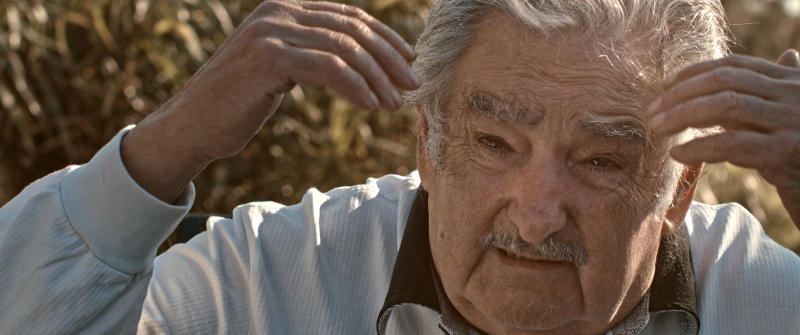 Frágil equilibrio
Guillermo García López
Spain, 2019 - 81'
Will we be able to keep the balance of this world we live in? Uruguayan president Pepe Mújica tells us to which point we are pushing the world.

---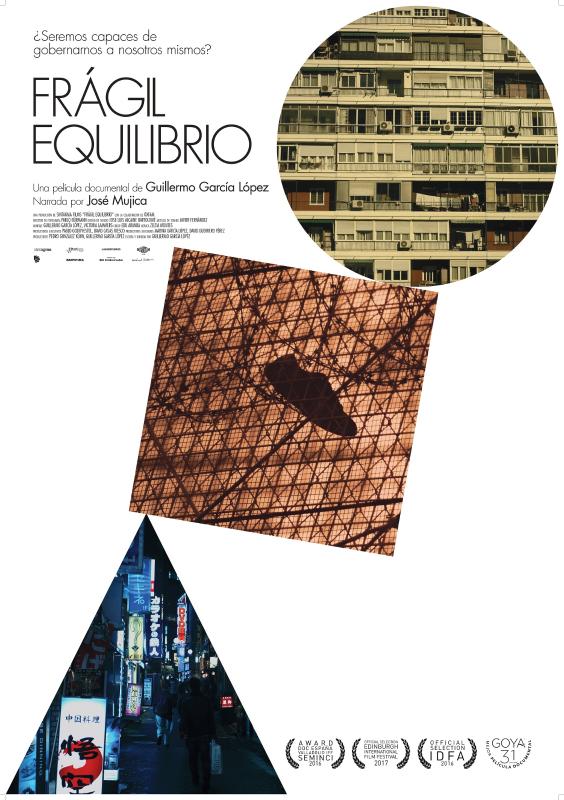 Plot
"The living world is a fragile, beautiful thing, navigating in the middle of the solitude of the universe, of the mineral silence, of the laws of physics."
José Mujica, for Frágil Equilibrio.


In Frágil Equilibrio three stories on three different continents are intertwined: two Japanese executives in Tokyo whose lives are locked in a vicious circle of consumerism and corporate labor; a sub-Saharan community on Mount Gurugú, near the Melilla fence, the border between Africa and Europe, who gamble their lives every day trying to cross into the First World; and several families in Spain torn apart by the crisis, real estate speculation, political corruption and the loss of their homes.
#documentary #ecology #humanrights #PepeMujica #migration #crisis #financialcrisis #politicfilm #awards

These stories are articulated through the words of José Mujica, former President of Uruguay, who in the film addresses universal issues that threaten humanity, questioning important pillars of the world we live in.
Shot in Uruguay, Japan, Spain, Morocco, Mexico, Hong Kong, United States, Qatar, United Kingdom and Chile, 'Fragile Equilibrium' projects a look at urgent issues that affect contemporary human beings: immigration, crisis, evictions, globalization, consumerism, and also survival, alienation, identity, freedom, loneliness, love, death.
It is a story of the present that looks to the future. A reflection on the path that contemporary human beings are taking in their habits and customs and in their way of relating to the world. A journey through diverse cultures, places and societies. A proposal for change from the particular to the general.
Full Cast and Crew
Director: Guillermo García López

Writers: Guillermo García López

Producer: Guillermo García López, Pedro González Kühn

Film Editing: Guillermo García López, Victoria Lammers

Cinematography: Pablo Bürmann

Music: Zeltia Montes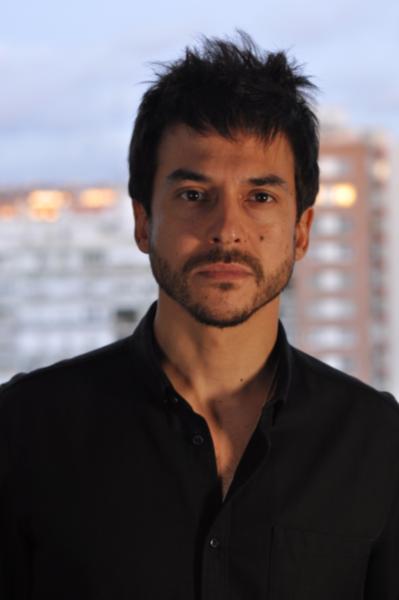 Guillermo García López
Guillermo García López is a filmmaker born in Madrid.

His first feature film, Frágil Equilibrio (2016), filmed in more than 10 countries and starring the then President of Uruguay, José Mujica, had its international premiere at IDFA, won the Doc España award in its national premiere at the SEMINCI in Valladolid and won the Goya for Best Documentary Film, among many other awards and selections at festivals in Austin, Edinburgh, Reykjavik, Gijón, Los Angeles, Montevideo, Teheran or Thessaloniki, among others.

In 2019 he premieres in RTVE the series Atlánticas, of which he is creator, screenwriter and co-director, composed of 3 films of 60' between documentary and fiction filmed in Greenland, El Hierro and Namibia: Deshielo, Inmersión and Oscilación, starring respectively Leticia Dolera, Clara Lago and Irene Escolar.

He has been selected to participate in creative programs such as the Spanish Academy of Motion Picture Arts and Sciences Residency, the Berlinale Script Station, the Torino Film Lab (Script Lab), where he received the CNC Jury's Special Mention, and the Cinéfondation Residency at the Cannes Film Festival, where he received the Moulin d'Andé - Centre des Ecritures Cinématographiques award.

He is currently developing his fiction feature film Ciudad Sin Sueño, which participated in the Berlinale's European Co-Production Market, in Ventana CineMad (Best Fiction Project Award), in CREA's Conecta+ professional meetings (Best Project Award), and in the Marché du Film 2020 as part of the ICAA's 10 Promising Spanish Projects in Development selection.

In 2020, Guillermo received the Princess of Girona Award for Arts and Letters.

His education began at the Liceo Italiano in Madrid. He began studying Architecture at the Escuela Técnica Superior de Arquitectura de la Universidad Politécnica de Madrid. In the subject of Architectural Ideation he directed several audiovisual pieces and short films and it is then when he decided to devote himself completely to cinema, he graduated in Audiovisual Communication from the Complutense University of Madrid and specialized in Audiovisual Production at the Puerta Bonita Institute in Madrid. Meanwhile, to pay for his studies, he works as assistant director with directors such as Pablo Berger (Blancanieves), or in shooting French productions such as Jappeloup, by Christian Duguay or Gibraltar, by Julien Leclerq, as editor in Televisión Española and as director of music videos or advertising pieces.

He has collaborated with Isaki Lacuesta, and with playwright María San Miguel in the documentary theater trilogy Rescoldos de Paz y Violencia, finalist for the Max Award for Best New Show in 2019.

Guillermo has worked as an artistic advisor on film projects such as Invisibles (2019), an experimental film by Namibian director Joel Haikali, screened at festivals such as Sao Paulo IFF, Festival de Cinemas d'Afrique or Mashariki African Film Festival, or La Gran Desilusión (2014), by Pedro González Kühn, premiered in the Official Section of the Gijón Festival and nominated for the Goya Award for Best Documentary Short Film.

She also works as a teacher in interdisciplinary educational environments such as the MAca Master of Architectural Communication at the Polytechnic University and the Complutense University of Madrid, where she was responsible for the Audiovisual Project Module, developing projects of intersection between film and architecture: in 2017 she curated the collective audiovisual installation Montajes Cotidianos desde la Frontera (ETSAM), in 2019 she co-curated the video art group exhibition Ser Alien (ETSAM, Espacio Cultural Daoiz y Velarde), and in 2020 she created the pieces Faceless and Lo-Tech Reality, the latter the result of her close collaboration with the collective Underground Resistance, from Detroit.

He has given multiple masterclasses on documentary filmmaking and developed film workshops for young people in areas at risk of social exclusion. He is a member of the organization Mundo Libre, which develops programs based on indigenous (Mapuche) educational models in combination with the language of film, such as the Pichikeche Film Camp and Children's Film Festival in southern Chile. He is currently promoting the creation of a film school in Sector 6 of La Cañada Real, in Madrid.


FILMOGRAPHY
Faceless (in postproduction) // dance and architecture piece // 10 min.


Lo-Tech Reality // techno piece // 7 min.
Atlánticas (2019) // documentary series, hybrid // 3 x 60 min.
DeshieloInmersión
Oscilación
Premiered on RTVE broadcast
Frágil Equilibrio
(2016) // documentary // 83 min.
Winner of the 2017 Goya Award for Best Documentary Feature Film
Nomination Goya Award 2017 for Best Original Song
Official Selection IDFA 2016
DocEspaña Award at the 61st International Film Week of Valladolid (SEMINCI) Official Selection at the Edinburgh International Documentary Film Festival 2017 Movistar+ Award at MiradasDoc 2017
Jury Award at Cine Las Américas Festival 2017, Austin (Texas) Audience Award at Cine Las Américas Festival 2017, Austin (Texas) Audience Award at Cinemambiente Torino Festival 2017.
Jury Award at HADOC Film Festival 2017
Audience Award at HADOC Film Festival 2017
Nomination for Best Documentary Film at Platinum Awards 2017
Nomination for Best Documentary Film at NewFilmmakers Los Angeles 2018
Grand Prix for Best Foreign Film at HumanDOC Film Festival 2017
Official Selection at Thessaloniki Documentary Film Festival 2017
Official Selection at Bahamas International Film Festival 2017
Official Selection at Reykjavik International Film Festival 2018
Official Selection at Doku Fest Kosovo 2018
Official Selection at Iran International Green Film Festival 2018
Official Selection at Uruguay Camina Green Film Festival 2018
Special Mention at MakeDox Film Festival 2017 (Macedonia)
Special mention for human and social values at the 30th Medina del Campo Film Week Special screening at Valletta Film Festival Malta 2017.